Welcome to the most wonderful time of the year! Or, at least we all want it to be like that.
We usually enter the holiday season with high expectations of loving times, special moments and spreading good cheer. But, by the time the season ends, we often find ourselves saying "Whew! We are glad that is over."
So why is it that so often our visions don't match our reality?
Typically our holiday vision doesn't reflect reality because we don't take the time as a couple to talk about and plan for how we desire the season to play out.
Instead, we get caught up in the rush.
We go through the obligatory motions and the unchecked traditions. We eat too much and spend too much. We hold our tongue, miss the meanings, and then fall exhausted into bed when it's all said and done.
The weeks blur by and in the end, we wake up with extra pounds, some unpaid bills, emotionally overwhelmed and anxious to get back to resuming some regular pace of life again.
Have you had this holiday experience before?
It doesn't have to feel this way!
What if this year your wonderful vision was your reality?
Imagine feeling peaceful, centered and present with the people that mean the most to you. Imagine enjoying the rush, intentionally choosing how you celebrate, and even stealing some quiet moments with your partner.
This reality is possible by planning for the season from the perspective of your Relationship First. Together you can make this year different!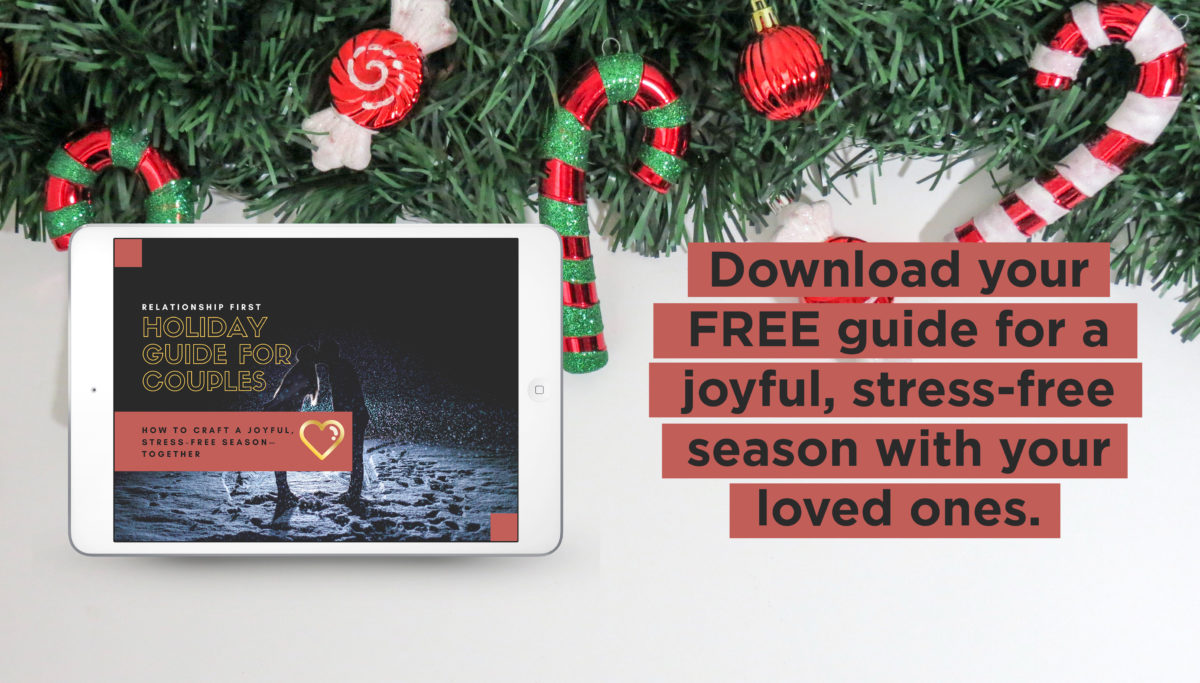 The place to begin is building a Relationship First Priority Plan. If you want to make your holiday vision a reality you need to sit down as a couple BEFORE the season begins a build a plan.
A Relationship First plan starts by discussing these two questions as a couple:
What is essential for us to experience together during this season?
What don't we want to lose sight of during this season?
In this order:
First, for your couple relationship.
Second, for your immediate family.
Third, for your extended family and friends.
Once you have answered these two questions for all three of these perspectives, you have set your grounding points—what you can measure all of your decisions off of over the next few weeks.
Next, for this plan to infiltrate your holiday experience, you and your partner need to talk through the following categories with each other. In each, you are going to discuss what works and what doesn't work for you this year.
OLD TRADITIONS are ways you have celebrated the holidays in the past. They can include rituals you brought into the relationship and those you have created together.
NEW TRADITIONS are ideas you have and think would make great additions to how you celebrate, as a couple, as a family or with extended family and friends.
GIFT GIVING can be fun and creative, bringing those you love joy. It can also be financially stressful and needs some planning to avoid post-holiday burdens.
MEAL PLANNING is often the center of most celebrations. It can also become routine and sometimes needs fresh ideas to stay healthy.
RELAXING MOMENTS can be hard to find. Carving out the time in the schedule beforehand will be appreciated in the end. Set get-togethers and timelines with self-care built into the calendar.
SPIRITUAL EXPERIENCES and rituals can be magical and meaningful this time of years. Creating space for these experiences can allow for treasured moments.
Finally, bringing this plan into action requires THREE critical commitments as a couple:
Stay Aligned: Together you are going to stay focused on your Relationship First Priority answers. Whatever you decided is most important for you as a couple are your grounding points and will inform all of your decisions. From there you will turn to your family's needs and then, to your extended family and friends. When you are caring for each other first, everyone around you will feel the love in greater abundance.
Set Your Boundaries: Decide, together, how you want to share your energy, time, money and moments with others. By following the decisions you made in the 6 Holiday Guideposts, you will know exactly what you want to do, how you want to do it and who you want to be with throughout the season. Let these decisions guide your yes and no as you schedule events, time with family and friends and moments for just the two of you.
State Your Plan: It is vital that you share your decisions and plans with your family and friends with love and confidence. So often, the holidays are driven by automatic behaviors, obligations, guilt and a "we've always done it this way" mentality. Usually, this is to avoid the disapproval or disappointment of others. Not this year, you and your partner have worked hard to be intentional about the season, so share that with others in confidence.
When you Stay Aligned, Set Boundaries and State Your Plan you will have put your RELATIONSHIP FIRST PRIORITY PLAN into ACTION this holiday season.
When you don't follow these steps, you risk being left with Holiday Regret— feeling relieved the holidays are over, frustrated by how it all went down, and swearing next year will be different. But remember, without a different game plan, we keep running the same play.
Now is the perfect time to take control, avoid Holiday Regret, and start putting your Relationship First. Couples that commit to this plan craft experiences and memories that bring joyful visions into reality.
Want to work this plan in your relationship? Download here for a FREE Relationship First Holiday Guide for Couples Planner. Consider it an early gift to your relationship that will keep on giving all season long!
Together you can make this the most Wonderful Time of Year!
---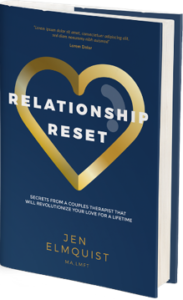 Revolutionize Your Love for a Lifetime
Relationship Reset reveals the secrets to becoming a better couple through exposing valuable information from current research and identifying critical insights that make relating easier.